It's been hot here in Boston for the past week, like July hot with humidity you can see in the air and pavement full of mirages. I don't even want to turn on my oven or stovetop and in general have been avoiding heated foods like the plague that they become in the summer time. I want something refreshing, something that that makes me swoon with the freshness of it. A while a go one of the many food blogs I read posted about Tzatziki – which I had never really had and had certainly never made, but it sat there niggling the back of my mind until last week.
Last week, if I wasn't clear, was hot. The heat was making me want to cry with the lack of cooking, so I drove to Russo's – I realize that this doesn't make much sense, but consider it as a haven of fresh vegetables to be rinsed and eaten as they are at prices a girl paying back scads of money in education loans can afford. At Russo's I found tomatoes for a steal, european cucumbers in need of chopping, and fresh dill.
A side note about dill – I am in LOVE with dill, it always makes things taste better for me while at the same time reminding me of childhood and weeding in my mother's garden in the sunshine. Dill just tastes like summer, with the idea of canning jars covering the kitchen table full of garlic cloves and dill blooms. It's rich and decadent and proliferates itself wherever you plant it, I love that about it.
When I got home from Russo's with the good intention of writing my yearly assessment for my job in my mind I went to the kitchen and chopped tomatoes, cucumbers, dill, and green onions until my head swam and I was starving. The heat in my kitchen was getting to me and THAT DILL SMELL was something that I couldn't get enough of so I did what any sensible person would do – I made Tzatziki..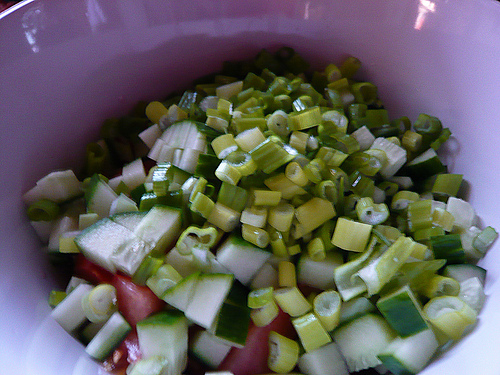 Tzatziki is what everyone is talking about right now, I've been wanting to make it for blog it forever with the intention of letting it get out for the summer heat and keeping us all cool. It is now June. I haven't posted up here in far too long and this tzatziki is still delicious and well worth the chopping, cross-my-heart-and-kiss-my-elbow.
Tzatziki
A Note: if you find yourself not wanting this much tzatziki adjust the recipe accordingly it can be made for anyone – singles or large groups, it's really one of my favorite parts about it, also the tomatoes don't really NEED to be seeded it'll just be watery if you don't seed them. Also this recipe is flexible – don't like raw tomatoes? add more cucumber. Just want it as a sauce? skip the tomato and cucumber all together.
1/4 cup Green onions, scallions, or chives (or some combination) chopped into 1/2 inch pieces
1 vine ripe tomato chopped into half inch sections with seeds removed (1/2 -3/4 cup)
1/2 English cucumber chopped into half inch sections (1/2 – 3/4 cup)
2-3 Tbs of finely chopped dill, add more or less depending on your fondness for dill
1/4-1/2 cup of Greek Yogurt
1/2 tsp Garlic powder or use garlic chives and just skip this step (more if you want it garlicky)
Salt to taste
Chop the onion, tomato, and cuke so it is about the same size and put it in a big bowl with the dill. Sprinkle your garlic powder on top and fold in the greek yogurt. Serve it in little rice bowls with a sprig of dill across the top and a dash of salt. SERVE IT IMMEDIATELY. I know that there are a lot of food blogs that tell you otherwise, you can drain it in cheesecloth overnight or let it sit for a bit. I like it better freshly made because I don't drain mine.
I love Tzatziki and now you will too, I promise.