I know that the winter squash obsession has passed for most people, but I'm still obsessed.  The sugars in those hardy winter squash are really coming into their own right now, making the squash really shine and work so well with whatever you want to add to it!  I like my squash soup with a fall fruit (in this case, apples) because I feel like it really fills out the flavors and lightens the heavier squash components.  I don't roast my squash for soup; I feel like it takes too much time and I can just cook it down in water (or stock if you've got some laying around), keeping all of those delicious juices right in the soup pot.  I also feel like it leads to a smoother soup.  It also has the added bonus of NOT burning my hands, which is "handy" (yes, I went there – don't judge me).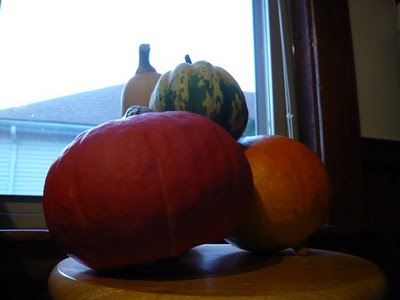 My dining companions (also known as BF and Big Sis) and I enjoyed this soup with sandwiches of baguette, salami, and brie, which were out of this world and were a fantastic accompaniment.
Squash soup isn't one of those soups I remember eating as a child; it wasn't even on my radar until I became obsessed with sunshine squash and soup a couple of years ago.  Such bright, cheerful little squash need to be soup.  They are vibrant and they have a fantastic flavor.  But I could be biased.  Also, I bought the one I used for this soup at an adorable honor system farm stand with a drop box for the money!  I love honor system stands in general, but one where I can stand in a little mud and pick out my favorite squash from the pile – those are the best.
Squash-Apple Soup
1 Medium Winter Squash (I like sunshine squash but butternut or hubbard will work too) (1 1/2-2 lb) peeled, cored, and cut into 1" cubes
1 Asian Pear (Pear-Apple) peeled, cored, and cut into 1" cubes
1 Macintosh Apple (Cortland will also work but a tart apple is key) peeled, cored, and cut into 1" cubes
1-2 tsp Garam Masala seasoning (to taste)
1/2 tsp salt
1/2 tsp fresh ground pepper
4-6 Cups Water or stock
Sour Cream/Creme Fraiche/Mascarpone Cheese/Greek Yogurt (for garnish, optional)
Put squash and apples into a large pot and add just enough water/stock until it comes to the top of the squash/apples but doesn't cover them.  Heat the pan over med-low heat and let it simmer, stirring occassionally until the squash is soft (15-20 mins).  When the squash has begun to fall apart, add the spices and stir well to fully incorporate them.  Taste the soup – add additional spices as you like.  Allow the soup to simmer for another 10-15 minutes for the flavors to come together.  You can serve the soup chunky if you like texture, or you can use an immersion blender/food processor/blender to make it velvety smooth.  Serve in large bowls with a dollop of your cream of choice (my favorite is Greek yogurt, preferably Cabot).