The Drinks of Local 149
Some weekends are quiet and you do nothing, and some weekends you are forced into doing that. I recently experienced the phenomenon of forced relaxation after significantly overeating at Local 149, in South Boston. Between the amazing drinks and the multiple courses that they served us I arrived home barely able to stand and promptly slipped into a day-long food coma. Please don't misinterpret this as complaining, please. My time at Local 149 was filled with some of the best brunch food I've eaten in a very long time. And the best sangria (a white-peach and mint number) I've ever had the pleasure of trying. This was a culinary journey involving the best of brunch, so now I offer you – Food Porn. Full of decadence and over-indulgence, I assure you the trip to the Southie is definitely worth the effort.
Farmer's Plate
Island Creek Oysters with Raspberry Migonette
When I first got to Local 149 with Renee, we were early (about 15 mins early) so we sat at the bar and both ordered cocktails. Renee ordered a House Mimosa (sparkling wine, OJ and pom) and I went with the Danish Bloody (a solid Bloody Mary topped with house made pickles). We sat and chatted while the rest of the brunchers trickled in – Jess, Megan, Amanda, Audrey, and Marie – to name a few! Local 149 set up our table and lo and behold – another drink!
Chicken and Waffles with Blueberry Rosemary Syrup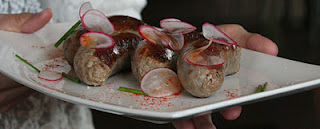 House Made Duck Sausage
This time it was the Thai Young Coconut Cocktail (and since my dining companion was pregnant that baby was all mine!). After that the food was coming out of the kitchen faster than we could eat it and the drinks just kept coming out. Ten courses and three drinks later (among them a second bloody mary, apparently I can drink!) I was rapidly approaching food coma and desperately in need of a nap. My photo recap is below. My favorite thing – the breakfast pizza with quail eggs, bacon, 3 different cheeses, arugala, and a crispy seed covered crust! My least favorite thing – the Lobster McMuffin, it was like 6 inches tall and I was so stuffed when it came out that it wasn't even appealing to me.
Breakfast Pizza
Toast to Life and Bacon
My verdict? Go to Local 149!!! Drink the sangria, especially if it's warm out and I don't care when it is – get the pizza. It's fantastic and great for sharing. Also take a moment to appreciate the intended kitsch – mismatched mugs and fun flatware help the atmosphere of a place with high end food relax and become a family affair.
Yorkshire Pudding with Sausage Gravy
Chocolate Malt Shake