Belgian Sized Frite with a Deep Fried Egg
Dear Fries –
You and I go way back. I've loved you since those first homemade fries that my mom made came out of the fry daddy – soft, tender, and tasting of fresh potato; you were delicious. So I did what any sane person who is terrified of hot oil would do; I started to hunt for THE PERFECT FRY. I thought that it was a hopeless venture, perpetually leading me to fries that were overcooked or soggy. I wrote emails to my sister extolling the virtues and failures of fries ranging from mediocre, to unpalatable, to acceptable. Then in January, there was hope. I saw a tweet from @saus_boston; there was a Belgian frites shop opening three blocks from my office. I started to dream of the fries I ate in Europe – delicious morsels cooked in good quality lard and covered by at least five different toppings, all of which seemed to involve some sort of curry flavor. This was what I had been searching for all along.
Saus – From the Top:
Cheddar Duvel, Bleu Cheese (special), The Bost-onion
I waited patiently for the storefront to open, scouring local blogs and publications for an opening date and longing for fries that I could eat forever. I waited and waited until, finally, an opening date was set – a menu was hung on the website (eatfrites.com), and there were rumors of Saus opening in March. Then it was there. A tweet said the elusive shop was open and I made plans with BF, Amanda, and her hubs to go for fries. We started with some soda – root beer and cherry cream soda from Virgil's, chose an exorbitant number of sauces (I think six) and gorged on a dinner of frites. These were perfect fries – crispy on the outside and fluffy within. They were hot without burning my tongue, and with every dip of fry in unique saus, whether it be the Cheddar Duvel or the humble homemade mayo, I was in heaven. I don't think we spoke for ten minutes while fries were consumed. We were in states of pure bliss. Fries, gourmet sauces, and to top it all off, a crisp root beer. I wanted to move in.
Belgian Waffle with: Lemon Creme, Berry, Salted Caramel, and Nutella Saus
Then we realized there were Belgian-style waffles. Allow me to reiterate that: BELGIAN-STYLE WAFFLES. It was June after college graduation, and BF and I were running around Brussels looking for just one late-night waffle shop that would serve us. And there, in front of Manneken Pis, was one such place, an open window being run by a couple teenage girls just ready to close up shop for the night. We asked for one waffle with dark chocolate and tipped them one euro for being open and willing to hold off closing for us (and we got extra chocolate). As I ate my waffle, I fantasized about eating more and was sad that it was our last night in this town of publicly urinating statues. Now we were home, and finally after three years of longing for good waffles, there were some nearby. And they fit the criteria – crunchy, fluffy, saus-y and all around swoon-worthy (seriously, you should probably just get the Nutella saus to drink, or bathe in, as one friend suggested). I left Saus that night in a dreamy state of full, telling BF that we will be going back – sooner rather than later, when the cheese curds were in (they hadn't gotten their delivery yet) and we could try the poutine.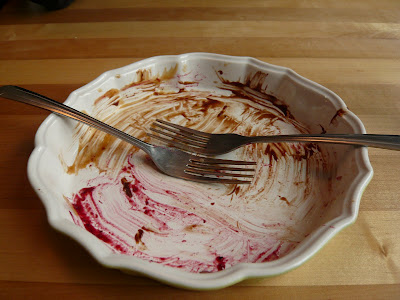 So, dear humble french fry, I've finally found the one of you that is king. Stick around will you? My belly can hold more than a single batch of fries and I (along with BF) will be back for more, especially with those perfect saus-es (saus-ies? saus-i?). You should probably make sure you keep around your friend, the waffle, too. One without the other may be like Peanut Butter without Jelly at this point.
Love, Kathy and BF
Now the fun part! You have read through my review of Saus and have drooled over my pictures right? Of course you have. After my most recent visit to Saus I stopped and asked one of the owners, Renee, if they wanted to team up with me to give one of my readers some frites. She loved it! So we hashed out some details. I'm giving away a $15 gift certificate so that one of my lucky readers can go there and try the frites and waffles themselves! Yum! You can enter three ways, leave me a comment telling me for each entry:
1) Go to the Saus website and leave me a comment saying which dip you would most like to try, you can also check their twitter feed for a rotating dip, or two. (Mandatory)
2) Go to Facebook and like Kathy Can Cook and Saus and leave a comment (optional)
3) Follow @kathycancook and @saus_boston on twitter and tweet
"I want to try frites and waffles thanks to @saus_boston and @kathycancook! #eatfrites" and leave me a comment that you did (optional)
All entries must be received by Monday June 6 at 12 Noon. The winner will be announced by 5 pm that day!