On Friday night Boyfriend and I (finally) went out or our anniversary. We've been together for 6 years and have marked every year that passes with another awesome meal to celebrate us. This was a tradition I started in our first year when we were both broke and I threw us a picnic on my dorm room floor; cheese, sparkling cider, and grapes. It wasn't fancy, but it was delicious. After that, it was The Boiler Room – a small place near our school that specialized in gourmet "American" cuisine (which sadly, is now closed). But then we moved to Boston and its suburbs where there were more options and the food was even better. Last year we went to the Soiree Room at Upstairs on the Square, where I ate a perfect amuse-bouche of stuffed brussel sprouts while our attentive server helped us choose a perfect wine to pair with our meals. This year BF took the reins and chose our anniversary dinner dining destination, and he made a very good choice. He chose Dali – a place full of just my kind of whimsy; there was something to scope out everywhere you looked. From the ridiculous smiling boar to the tiles in the table, I was caught in the feel of the place.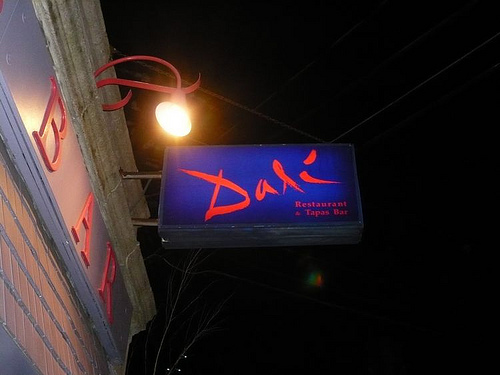 In our slightly cramped quarters (the hostess sat us beside a large family which could have been easily averted as there were many other open tables at the time) we started the evening off by ordering a liter of the house Sangria which was delicious and made for a wonderful companion drink for the whole meal. Our server was charming – answering questions and helping us with pronunciation when we faltered with the Spanish words. Even though we were sometimes left wanting (they didn't give us a wine list when we were seated) he came back to the table with a smile and help as often as possible.
We started our meal off with the Plato Mixto, a large plate of Serrano ham, manchego cheese, olives and roasted red peppers. This was delightful and a perfect opening to what soon became a delightful and languid meal. Our second plate was the
Alcachofas Rellenas, mushroom stuffed artichokes, which were good but next time I may try something different (I could taste that the artichokes were canned and the tinny taste was distracting). The mushroom cream sauce was delicious and I wanted that as a dip for my bread. Our second dish was the
Butifarras con Brevas – Pork Sausage and Figs. The fig sauce for this was especially delicious and I found myself taking small bites of the sausage just so I could dip them in the sauce more than once!
Dish number three was Patatas Bravas which were absolutely wonderful! The crispy potato and spicy tomato sauce topped with a creamy alioli made me giddy with happiness, though I do love a fried potato so I may be a touch biased. Our final plate was pato braseado – which was made from locally sourced duckling in an absolutely stunning mixed berry sauce; I was full yet still kept reaching for more of that sauce.
Next time: I will call ahead; apparently they don't take reservations but have "preferred" seating if you call ahead.
[Editor's note: Reservations over phone only before 6 pm, "preferred" seating after 6pm if you sign up at the restaurant in person. Call ahead for full details.]
I will definitely order the Sangria, it was delicious. I will order that duck again, twice. And I will take my time. Which was possibly my favorite part of the whole experience; I didn't feel rushed at all, I was at a table-for-two for an hour and a half and I didn't feel hurried, which left me in a good mood. Even though there was a family beside me and the hostess forgot the wine list, my gripes were small in comparison to the leisure the dinner gave me.