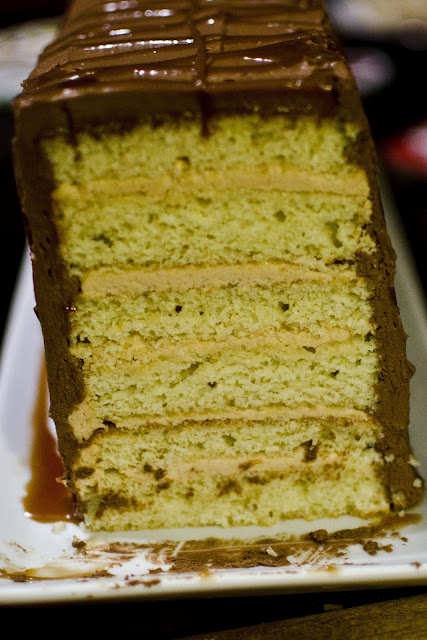 Thanks for the picture Rachel!
I wasn't going to post this recipe initially. The cake recipe is an old one (a favorite that I use all the time) and the salted caramel frosting is directly from another blog – but BF told me I needed to share it because a six layer confection of frosting and cake should be shared. Because I hadn't initially meant to blog this there are only pictures of the cake as it was built, but don't worry about that. Marvel at the cake – six layers of yellow cake, salted caramel frosting sandwiched between each layer, coated with decadent chocolate truffle cream frosting, and topped with drizzles of caramel sauce.
I had been playing with the idea for this cake for quite a while – it's a take on Smith Island cake, which just had chocolate frosting and filling. But BF isn't the biggest fan of that much chocolate and I've been wanting to make salted caramel frosting, so it seemed a natural fit. I made this cake to bring over to Rachel and Joel's as a pairing with a fantastic meal of braised lamb shanks and potatoes au gratin. Which meant I baked all day and left an obscene amount of dishes in the sink. But it was worth it.
I am one of those people that will bake to soothe whatever stress I'm under, whether it be in relation to job-hunting or doing my taxes, baking calms me down. So on Saturday, while BF struggled with his taxes and I paced impatiently from the kitchen to the office and back again, I baked a cake, I made two different kinds of frosting, and I fell in love with salted caramel sauce all over again. As I watched sugar melt and boil to a beautiful amber color and hoped against hope that it would come out right this time I fell into a state of ease – I shook off the tension of the week and indulged in a cake scrap drizzled with caramel sauce. So perfect, so confidence inducing, so satisfying to see a pot of caramel and say, "yeah, I did that, TWICE."
Let us not forget the chocolate truffle frosting, either. This frosting is sort of a mantra for my mom who tells me that it is THE chocolate frosting I must make if I'm looking for it. My mom found this frosting about nine-and-a-half years ago, while she was pregnant with 'Tonio and swore she wouldn't ever make another one. I tend to agree with her – it's fantastic, decadent without being too sweet, and rich without being overpowering. It paired perfectly with the salted caramel frosting. Now if only we all had enough room to eat a whole 3″x14″ six layer cake, instead we all had thin slices and cursed the epic amount of cake I made. Oops.
Six Layer Cake with Salted Caramel frosting and Chocolate Truffle Cream Frosting
The cake is all my design! The cake recipe I used is one I put up here a long time ago. The salted caramel frosting is from this post, over on My Baking Addiction, I made just the caramel sauce to put on top too.
Chocolate Truffle Cream Frosting
Adapted from the Joy of Cooking
This recipe makes enough to frost and fill a two layer cake.
4 egg yolks
1/4 cup sugar
1 tsp espresso (1 tsp espresso powder + 1 tsp boiling water works)
1/3 cup boiling water
6 oz finely chopped chocolate (about a cup)
8 Tbs unsalted butter
In a wide heat-proof bowl (I use a shallow metal bowl) whisk together the yolks, sugar and espresso until fully combined and frothy, about 30 seconds. Add the boiling water 1-2 Tbs at a time, whisking between additions, until fully incorporated. Place a bowl in a frying pan with at least an inch of water in it (the idea here is basically a wide flat double boiler). Bring the egg, sugar, espresso, water mixture to a temperature of 160 degrees, stirring occasionally, and remove it from the heat. Add the chocolate and butter, mix until smooth. If you find that the chocolate/butter aren't melting you can put them back in the pan with water in it (turned off, the water should still be warm enough to melt chocolate). Allow the frosting to cool, in the fridge, fro about twenty minutes if you want to use it as a spreadable frosting. Or just pour it over your cake if you just want a glaze. Enjoy.
Assembly


This cake was a bit tricky for me, in that I created the whole thing specifically for a platter I had in mind, hence it's Kit-Kat like appearance. This meant cooking the cake in cookie sheets/jelly roll pans and then cutting each sheet of cake down to a specific size, in this case 3″x14″. I found that cutting the cake down to be uniform sizes was the hardest part, mostly because I just can't cut in a straight line. Regardless, when all of your cake pieces are uniform (or you think they are) stack them to make sure. Then you can start the real assembly. It's best to have both frostings all ready when assembling, then you don't have to stop. Start with a cake on the bottom then add a hefty amount of caramel frosting – I found that one recipe made just enough for me to fill between the layers. Smooth out the frosting then add another layer of cake, continue to alternate until it looks like the "image" below:
Cake
Caramel Frosting
Cake
Caramel Frosting
Cake
Caramel Frosting
Cake
Caramel frosting
Cake
Caramel frosting
Cake