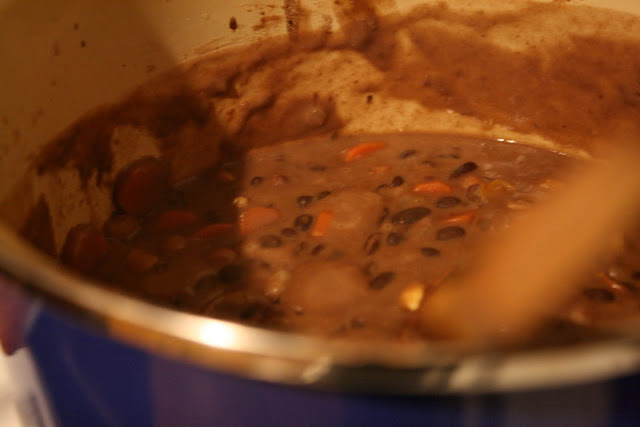 I went to college in a minuscule town in Western Maine. While school was in session it felt like there was a town of about 15k when school was not in session there were about 3000 people in the town. My school was wonderful with small classes and professors who knew your first name it was the place you wanted to go after going to high school in an even smaller town, a stepping stone toward more. But it was the town I was most enchanted with. There was a cafe where I worked for a brief period, there were the brick structures of campus covered in English Ivy, there was the river I rode a giant blowup dinosaur named Lottie down one summer day – meandering slowly on it's way somewhere I never went (Mexico, ME maybe?), and there was Soup For You.
In my senior year of college I took most of my classes on Tuesdays and Thursdays, in class until 4:15 or so on Thursday and then later that evening from 6-9. So in that little interim period from 4-6 I always walked downtown to Soup For You, ordered one of the daily soups (there are always 6 – 3 vegetarian options and 3 omnivorous options) and a coffee and sat in a booth and read, or chatted with friends there. It was one of my favorite semesters, and I always hoped for this soup to be on the menu, especially on warm spring days.
Maybe I loved Soup For You because it was charming – with hand painted tiles and quirky-ness everywhere, or because they knew that I loathed soup-spoons so always gave me one of the miniature ones they held behind the counter for little kids, but I think the biggest reason I loved it is that it was introduced to me by a community. That community was full of some of the strongest women I've ever met, and I am still close with several of them now. They were my coworkers in the Women's and Gender Studies Center, a work study job that is by far the best job I've ever had. We held potlucks together, went to lunch, stayed well past or scheduled times just to hang out, published a literary journal called Ripple that focused on women in writing, we wrote poetry and we read. I associate this soup with those girls.
My first day in the Women's and Gender Studies Center saw me, terrified (as usual) meeting everyone and trooping around the grand (read 2 or 3 streets) downtown of our little college town when one of the girls piped up that there was Thai Peanut and Black Bean Chili and Soup for You and they probably still had Corn Muffins. So we stopped. We all ordered the same thing 8oz of the chili and a corn muffin, then we sat down. The warm spring sunshine on our backs and excited about our upcoming events and the new issue of Ripple. So this soup is camaraderie for me, it's comfort somewhere new, and it's friends and mentors. It's my history. It's also a Soup for You specialty and totally made the internet fail me. So this is as close an approximation as I can get. Eat it with friends and a corn muffin.
Soup For You inspired Thai-Peanut and Black Bean Chili
Note: I love this soup and would eat it every day if I could. It's also quite close to Soup For You's version, which is so exciting to me, since I can't find anything half as good in Boston.
Olive oil
1 Medium white onion, finely diced
1-2 cloves garlic, minced
1 Tbs Ginger Juice, or 2Tbs fresh grated ginger (I LOVE GINGER, you may not so go lighter on this if it's not your flavor)
1/2 red pepper, finely diced
2-3 medium carrots, sliced thinly into coins
1 can full fat coconut milk
zest of 1 lime
zest of 1 lemon
2 cans of black beans, 1 drained and 1 with liquid
1/4-1/2 tsp red pepper flakes (use more, less, or none depending on the heat you like)
1/4 cup creamy peanut butter
1/2 cup dry roasted unsalted peanuts
handful of cilantro (optional)
In a large pot heat the olive oil over medium heat. Add the onion, garlic, red pepper, carrot, and if you are using fresh ginger add that too and allow them to soften, stirring occasionally – this should take about 5 minutes. Add the coconut milk and the zests and stir to combine. Make sure you get everything in the pot evenly distributed throughout the coconut milk and allow the whole pot to come to a gentle simmer. Add the black beans and red pepper flakes then allow the pot to come back up to a simmer, allow it to simmer like this for 10-15 mins. Add the peanut butter and allow the chili to come to another simmer. If you think your chili is a little thin you can add more peanut butter, but that is up to you, regardless stir the peanut butter in well – it s the star flavor here. Add the dry roasted peanuts and let them cook for 10 minutes or so – you want them to be warm but still have crunch. Serve the chili with a corn muffin on the side and a sprinkling of cilantro on top. Don't ever look back. Its vegan and delicious. Win.