This post has been brought to you by kathycancook's very own "BF", who also sometimes writes in his own blog.
A few weeks back, Kathy was invited to a blogging event at
Fleming's
to experience their new
small plate menu items
. These type of events more-often-than-not fall into the category of "fun, but gastronomically unremarkable" (even more so when the restaurant is a national chain), so I considered passing on this one, but decided to tag along as a plus-one, aiding with pictures and review-related-thinking-activity-things. What I can report back is pleasant surprise. We were treated to a series of dishes, each one vying for my affections by exploiting my different culinary vices. Like children, I could not choose a favorite and had to eat each one multiple times. As such, I'm going to review each dish briefly so as to avoid gross keyboard-unfriendly drooling.
First up on this new lineup is the Filet Mignon Skewers. The skewers were cooked perfectly (rare-medium-rare for-the-win) and was accompanied by "the Sauce". The Sauce is comprised of two-parts Gorgonzola, one-part bacon, and thirteen-parts jackalope magic. After being the first to taste it, I promptly (and secretly) snuck around the room looking for anything I could dip into it so as to maximize the relocation of whatever Sauce that was present from cold, unfeeling porcelain dishes into my stomach. Assume from this point forward, that all the other dishes I tried were first consumed as they were intended, and then again with gratuitous amounts of the Sauce drizzled all over.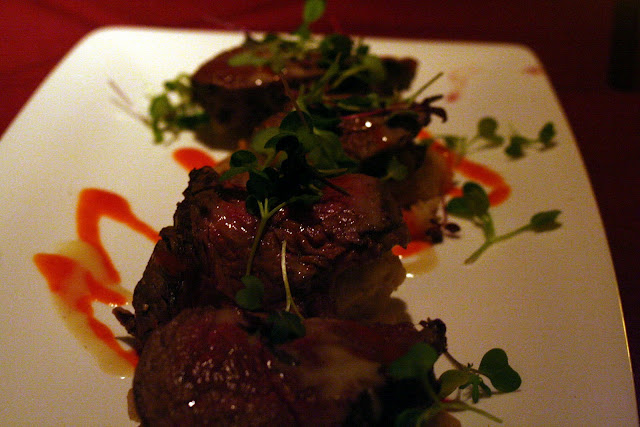 Next came the Sliced Filet Mignon. Let me just re-iterate again here how perfectly this and all the other meat was cooked. My experience has been that most places (including steakhouses) have difficulty hitting that rare-medium-rare sweet-spot – Fleming's nailed it each and every time (and let's face it, if you're eating over-cooked meat, you might as well not bother).
I'm not a huge fan of chops as a finger food, but these lamb chops were delicious and accessible.
Let's also not forget the seafood offerings. We tried their tempura-breaded lobster, shrimp skewers, Ahi tuna skewers, and scallops. Full disclosure: I am not a seafood fan, save for very few, very specific exceptions. I tried each of these dishes, and was surprised to enjoy each one – they were actually on par with my all-time favorite, steak (which is nearly blasphemy in my book).
We wrapped up with espresso and white chocolate-covered chocolate truffles, which were their own kind of heaven.
I won't lie, I was surprised by the quality of Fleming's dishes. While I don't consider myself a particularly discerning foodie, I recognize the difference between "pretty good" and "fantastic". If the quality of these dishes are what can be expected at every visit, I'll be adding Fleming's to my list of regular places to eat.
We were also treated to red and white variations of wine, though I don't feel terribly qualified to judge them. I enjoyed them plenty, but wine is one of my regular blind spots. The event was complementary, but as is the norm here at kathycancook, our opinions are our own.