Spring has finally moved in and is rapidly approaching summer here in Boston and I am simultaneously thankful and irritated. The thankfulness comes of knowledge of fresh and local produce that will soon be gracing my table and kitchen and the irriation comes of horrible spring hayfever. I know we all have it on heavy pollen days – the runny nose and itchy eyes come with the territory, but just once I would like to smell the lilacs and not sneeze for the rest of my walk home. But the produce – that I can get behind. With the city's seasonal farmer's markets starting up I'm getting impatient for food that tastes fresh again.
On a recent trip to the Dewey Square Farmer's Market I was thrilled to see Kimball Farm with bunches of asparagus for $5 each. They were good and I was excited to be seeing produce that is creeping closer to home as the ground warms and green things start to explore the world. With the fresh asparagus comes the hope of greater things coming soon – tomatoes that taste like tomatoes (gasp), peppers that I want to eat, and fresh herbs that I'll add to some greens (which you can get at your market now thanks to cold frames and awesome farmers), add a squirt of lemon juice and call it dinner. But we're not quite there yet. For now I have some root vegetables left over from the winter and this farm fresh asparagus – the first sign of summer actually coming to stay.
I love asparagus, especially the tender green shoots that are no bigger than a pencil and burst with a sweet and green flavor; it's filling and delicious. I basically turn BF and I into vegetarians while asparagus is in season, buying it in quantities that make most people look at me strangely, and gently roasting it with chickpeas at least twice a week. I'm obsessed. And it's soooo worth it. We aren't vegtarian eaters usually – add a sausage or some chicken to our meals and we're happy campers but this roasted asparagus dish is fantastic and when I made it the other night as a quick meal, BF asked me to make it again. I was so surprised you could have knocked me down with a feather, a quick and easy meal that's cheap and delicious – oh yeah I'll make it again (and again and again).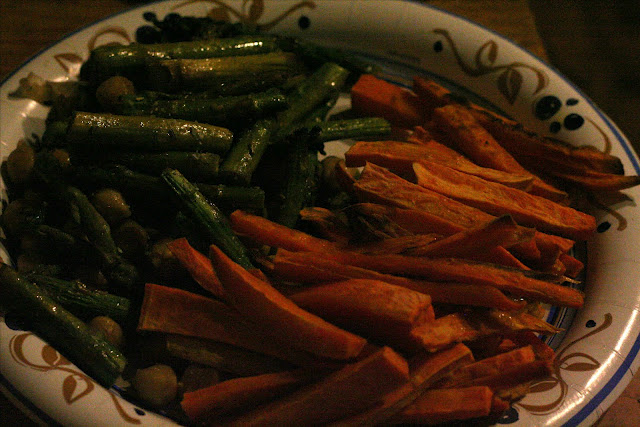 The best part of this "meal" if you want to call it that, is that it's virtually effortless – remove the bottoms of the asparagus, cut it into finger lengths, and toss it with some oil and spices. It's a meal! Veggies! Protein! I suppose you could do it as a side, but it's delicious on it's own. I like it with sweet potato fries – which is a great way to use up the tail-end of those wintered-over potatoes that are hiding out anyway.
Baked Asparagus and Chickpeas
1 bunch asparagus, woody ends broken off and cut into 2 -3 inch pieces
1 can chickpeas, drained and rinsed
1 Tbs olive oil
1 Tbs balsamic vinegar
1/2 tsp coarse kosher salt (any coarse salt is fine here, it doesn't need to be kosher)
1/2 tsp garlic powder, to taste (rosemary is nice here too, or whatever other spices you're in the mood for)
Preheat the oven to 350 degrees farneheit. Add the asparagus and chickpeas to a 2 inch deep baking dish (I use a 13×9 glass pan) and drizzle the olive oil and balsamic over them. Gently toss the asparagus/chickpeas with the oil and balsamic (this can be done in a bowl if you are not confident of your abilities to keep them in the pan). Add the salt and spices and give everything a final toss to evenly distribute the spices. Stick the pan in the oven for 20-25 minutes until the asparagus is tender and a little wilty. The asparagus will be fantasic and the chickpeas crisp up so much that you will chase them around your plate until they're gone. I promise. This makes a great entree meal for two (with sweet potato fries, of course) or as a side for more. Deee-licious.